Moviestars fight for Custody
http://www.spotlightingnews.com
17/11/2005 Make a Comment
Contributed by:

admin

( 47 articles in 2005 )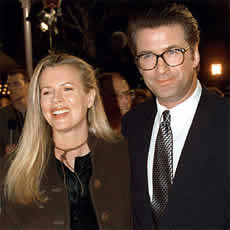 Alec Baldwin And Kim Basinger Continue The Fight For Custody

The Actor Spent Over $1 Million Fighting The Case.
Hollywood actor Alec Baldwin and his ex-wife Kim Basinger are still fighting for their daughter custody, but Baldwin admitted he's considering of giving up his battle because it's costing him a fortune.
In the official documents, obtained by TV news show Extra, Baldwin states, "I have spent over $1 million in custody legal fees."
Alec dragged Kim into court early this month for his daughter custody, claiming that the actress tried to turn the little girl against him by violating a court-imposed custody order and denying him access.
Baldwin was married to actress Kim Basinger from 1993 to 2002. For the past few years, the couple has been the subject of much media attention, for the bitter divorce and custody fight over their daughter. During the scandal, Kim accused Baldwin of being an abusive husband and father.
The custody scandal continues, both parties being expected back in court next month.